This site uses Google Analytics to track visits. Privacy Statement

Java Web Start Security
An update to Java 7 has meant that much stricter security measures are taken when trying to start Web Start applications. This means that starting an application from this site is unfortunately a bit harder.
It is possible to add this web site to a trusted list that means the applications will start. This implies that you do actually trust applications hosted on The Lab Book Pages. I hope that by making all the source code available for the application this will provide enough trust for users. I've certainly done my very best to ensure nothing bad happens to your computer by running the software/code on this site, but everything is still used at your own risk.
To add this site to Java's trusted site list on a PC running Windows 7, please follow the sequence below. Click on the images to make them larger.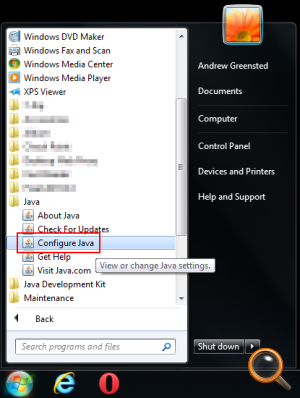 Open the Java Control Panel
The Java Control Panel can be accessed from the Start Menu. Find 'Java', then click on 'Configure Java'. Alternatively, open up the windows Control Panel and find the Java icon.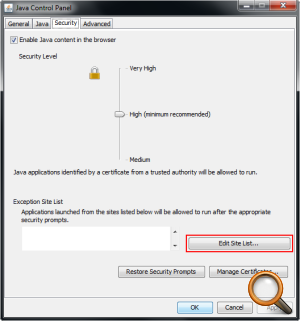 Security Tab and Site List
When the Java Control Panel opens Select the Security Tab. This tab shows a list of trusted sites, which could well be empty. To add a new site, click the 'Edit Site List...' button.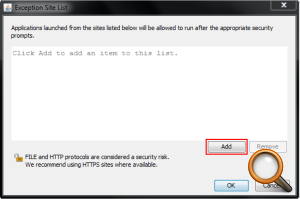 Java Exception Site List
To add a new site click Add.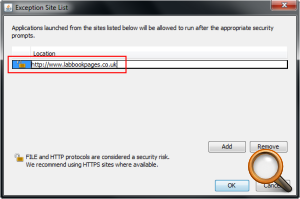 Java Exception Site List
In the new line that appears add the full website URL. This should be http://www.labbookpages.co.uk. Then click OK.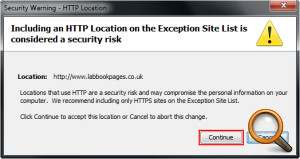 Security Warning
If you're presented with a warning window, read the text, then click Continue.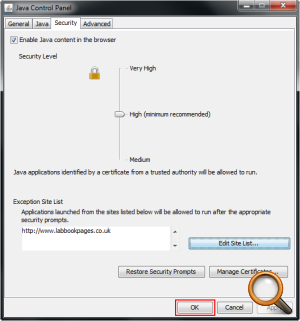 Updated Exception List
The Exception List on the Security Tab should now list the URL for the Lab Book Pages. You should now be able to easily open the Web Start applications from this site. You might need to restart your web browser.
---