This site uses Google Analytics to track visits. Privacy Statement

Scopes
Notes about Scopes.
---
Tektronix Serial Port Screen Printing
Some Tektronix Scopes have a screen printing function, this can be either built-in, or as an expansion module. By using a serial cable you can dump a screen grab from the scope to your computer.
The stty command can be used to set up the computer's serial port. You need to select raw mode, otherwise the image data will be corrupted.



>

 stty -F /dev/ttyS0 raw 9600

The oscilloscope settings are shown below.
| | | |
| --- | --- | --- |
| RS232Settings | Printer Settings, Page 1 | Printer Settings, Page 2 |
Simply cat the serial port to a file, then press the scope's print button. You will need to monitor the file size to see when it stops increasing.



>

 cat /dev/ttyS0 > image.bmp

An example screen grab. An eye diagram from a serial communications link.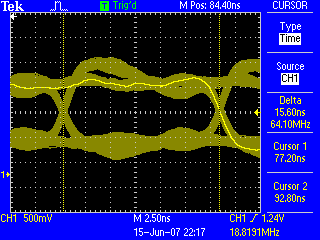 Example Screen Grab
---